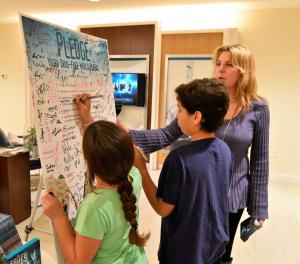 Adult helps kids take the Drug-Free Pledge at Seminar by Florida Chapter of the Foundation for a Drug-Free World
Drugs rob life of the sensations and joys which are the only reasons for living anyhow."
— L. Ron Hubbard
CLEARWATER, FLORIDA, US, January 10, 2019 /EINPresswire.com/ — The Foundation for a Drug-Free World Florida Chapter is putting on its first Drug-Free Youth Festival on January 26th starting at 1:30pm at the Osceola Courtyard located at 201 N. Fort Harrison Ave in Clearwater, Florida.
Parents often worry about their child becoming involved and dependent on illegal drugs, however there are more chances of a teenager getting into trouble through legal drugs like alcohol. The Youth Festival will have live music, dancing, food, a scavenger hunt, fun games and activities, a photo station and more, so they can enjoy the party without drugs and learn about the harm they create to one's mind and body.
"We want to show youth that they can have lots of fun being drug-free," said Julieta Santagostino the President of the Foundation for a Drug-Free World Florida Chapter. "And it is also important that they are educated on the dangers of drugs so they can stand up to peer pressure."
Per a study done by Colombia University, seven out of ten teenagers have been offered an illegal drug.
"Unfortunately, a lot of parents don't think it will be their kids, but in reality there is a 70% chance that it will be their child," Santagostino said. "So it is just as important to educate the parents."
Per the National Institute on Drug Abuse, teens whose parents talk to them about drugs are 42% less likely to use drugs.
Youth and parents are invited to attend the complimentary Drug-Free Youth Festival on January 26th and have fun while learning important facts.
There will also be great raffle prizes!
To find out more about the event or to get free drug education materials from the Foundation for a Drug-Free World you can visit the Foundation for a Drug-Free World information center at 41 N. Fort Harrison Ave, Clearwater, FL 33755 or contact the Foundation at 727-467-6962 or email info.fl@drugfreeworld.org
Foundation for a Drug-Free World:
The Foundation for a Drug-Free World is a non-profit organization that educates youth and the community on the truth about illicit drugs so they can make the right decision live drug-free. The Church of Scientology is a sponsor of the program making it possible for the Foundation to provide educational materials at no cost to educators, law enforcement and the community. L. Ron Hubbard, the founder of Scientology said, "Drugs rob life of the sensations and joys which are the only reasons for living anyhow."
Pat Harney
Church of Scientology Flag Service Organization
727-467-6860
email us here

Source: EIN Presswire